Level

CHART 1 EXERCISES

1/2 mile run

1 mile walk

1

2

3

4

5

In minutes

A+

20

18

18

13

400

5.5

17

A

18

17

17

12

375

5.5

17

A-

16

15

16

11

335

5.5

17

Minutes in each exercise

2

1

1

1

6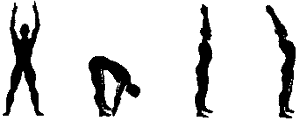 Exercise 1

1. Feet astride, arms upward. Forward bend to floor touching then stretch upward and backward bend. Do not strain to keep knees straight.

Exercise 2

2. Back lying, feet 6" apart, arms at sides. Sit up just far enough to see your heels. Keep legs straight, head and shoulders must clear the floor.

Exercise 3

3. Front lying, palms placed under the thighs. Raise head and one leg, repeat using legs alternately. Keep leg straight at the knee, thighs must clear the palms. (Count one each time second leg touches floor.)

Exercise 4

4. Front lying, hands under the shoulders, palms flat on the floor. Straighten arms lifting upper body, keeping the knees on the floor. Bend arms to lower body. Keep body straight from the knees, arms must be fully extended, chest must touch floor to complete one movement.

Exercise 5

5. Stationary run - (count a step each time left foot touches floor. Lift feet approximately 4 inches off floor). Every 75 steps do 10 "scissor jumps". Repeat this sequence until required number of steps is completed.
Scissor jumps - Stand with right leg and left arm extended forward, and left leg and right arm extended backward. Jump up - change position of arms and legs before landing. Repeat (arms shoulder high).